New Bloomables® Plant Introductions Bring Flower Power to the Garden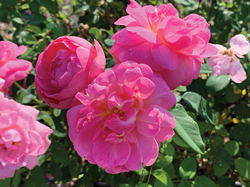 WEST GROVE, PA (PRWEB)
March 10, 2022
Spring will be here before you know it, and the best way to welcome it is to get out there and plant something! To get you excited for spring, Bloomables® is releasing several new flowering shrubs that pack a visual punch.
If you're looking for flower power, these new introductions deliver. With vibrant colors, unique textures and, of course, striking blooms from spring through fall, your garden is sure to be the envy of the neighborhood. These varieties of roses, hibiscus and hydrangeas offer high reward with minimal effort.
Whether you're looking for plants to display on your porch or patio or want some impressive varieties for the garden, these new plants from Bloomables® have it all.
Sunset Horizon™ – Are you already dreaming of warm and colorful summer sunsets? With this rose, you don't have to wait. Sunset Horizon™ is an attractive Floribunda rose that starts out bright yellow then fades to dark pink and cherry red. It is beautiful in containers and landscape. In full sun, this rose will finish about 3-4′ tall by 3′ wide and is hardy in zones 5-11.
Well Sit™ – Nothing beats effortless blooming from spring to frost. Sitting Pretty™ does exactly that with bright pink, fluffy Grandiflora flowers. Combined with good disease resistance and an attractive form, this easy-to-grow shrub stands out in the landscape or in a container. In full sun, it will finish about 3-4 feet tall by 3 feet wide and is hardy in zones 4-11.
Hibiscus Head Over Heels® Collection – This superb collection of hibiscus are characterized by their large, eye-catching flowers on a compact habit making versatile plants with many uses in a range of colours. All finishing at around 3′ tall by 4′ wide, these plants are perfect for poolside containers, patio or freestanding patio pots, as a specimen in the garden, or planted in groups. Hardy in zones 4-10, providing bold tropical blooms all summer long.


Hydrangea Akadama® – Akamada®, which means "red ball", is the perfect name for this abundant bloom. The striking flower heads of this hydrangea open deep pink and darken as they age, contrasting nicely with the elegant dark green foliage. These blooms can last up to two months, making her perfect for containers, the landscape, or even as a cut flower. Hardy in zones 6-9, this beauty will finish in a rounded 4′-5′ mound.
Ruby hydrangea flower – Ruby Blossom brings supreme flower power to a compact shrub. Backed by strong, sturdy stems, this shrub produces an abundance of dark pink, double-flowered flowers against rich green foliage. Its compact habit makes it perfect for vegetable patches and small gardens. Hardy in zones 6-9 and finishing in a 3′-4′ rounded ball, this brilliant little shrub is sure to turn heads.
To learn more about Bloomables® varieties, garden inspiration and where to buy, visit Bloomables.com.
About Bloomables®

Bloomables® make it easy to have a garden that blooms all season long. The collection is made up of the best flowering plants from Star® Roses and Plants, easy to grow and offering a great reward in the garden. Bloomables® consists of over 50 carefully selected different varieties. Whether you're looking for new plants to display on your porch or grow in your garden, Bloomables® has it all. Bright colors, unique textures, and of course, stunning florals make this collection one of a kind. To learn more, visit http://www.Bloomables.com.
Share the article on social networks or by e-mail: